The University of Florida's College of Liberal Arts and Sciences offers students the opportunity to study in Egham, UK at Royal Holloway, University of London. Students can study during the fall, spring, or academic year. Royal Holloway, University of London, founded in 1879, is ranked in the top 30 of all UK universities. As a leading research university, it offers a broad range of subjects and has a strong tradition of academic excellence. The historic campus is considered one of the most beautiful in the world and is where most teaching and social activities take place. With a student population of just over 9000, students enjoy a close-knit community and small class sizes. Students studying at Royal Holloway, University of London will have the best of both worlds living in Egham, Surrey which is located 40 minutes (by train) outside of bustling London. Students will have easy access to all that London offers, but will still enjoy traditional English village life where there is a strong sense of community.
APPLY
Requirements/Eligibility
Open to all CLAS majors (Science majors, including pre-medical/dental/vet students, are encouraged to apply)
Languages of Instruction: English
Required GPA: 3.0
Students must have completed 12 hours of coursework at the University of Florida
Two letters of recommendation
Official Transcript
Statement of Purpose
Interview with Dr. Brian Harfe, CLAS Associate Dean
Credits/Courses
Department of Geography's UF course equivalents.
Tuition and Fees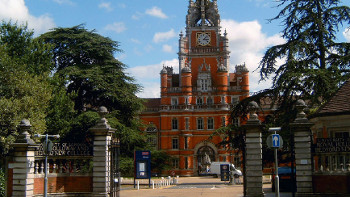 Tuition at Royal Holloway, London University is waived for exchange students. Students participating in an exchange pay tuition directly to the University of Florida at their usual tuition rate. All financial aid, scholarships, and fellowships are applicable. Tuition at Royal Holloway, University of London will be waived. Students incur no additional tuition cost while they are on an exchange.
Housing
Exchange students are guaranteed housing provided their requests are submitted on time. Students have the option of living in catered (with a meal plan) or self-catered (with shared kitchen) residence halls. Most exchange students choose to live in Founder's Hall located in the beautiful Founder's Building. Watch a video on more information of the Founder's Building (30-week contracts are NOT required).
Financial Aid
University of Florida students needing financial aid should apply through UF Student Financial Affairs. Normal eligibility for aid may be used while studying abroad as an exchange student. This includes using the Bright Futures scholarship and the Florida Pre-Paid College Plan.
Scholarships
For fall, spring, and academic-year scholarships administered by the University of Florida International Center, the deadlines for application are: early March for programs starting in fall; and early October for programs starting in spring. Applications forms are available on the UF International Center website.
– The Brian and Kate Harfe International Exchange Scholarship: Please note that preference will be given to students spending an entire year abroad.
Health Insurance
Students will be billed for mandatory international health insurance which includes emergency medical assistance.
Fees
A $425 non-refundable service charge is assessed for students participating in single semester or Academic Year programs. (The $425 fee is refundable if student is not accepted to the program). This charge is due within 21 days of the application. Students will be charged regular UF tuition while participating in the program.
Application Deadlines
See the application deadline and dates on the International Center website.
Work Requirements and Volunteer Opportunities
Currently, students will be able to work (with conditions) on a UK student visa. These resources may be helpful in explaining the certain restriction/conditions further:
Contact Information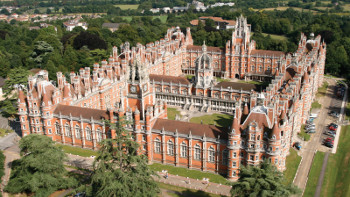 UFIC Study Abroad Advisor
Emma Frierson (she/her)
Study Abroad Advisor
efrierson@ufic.ufl.edu
352-273-1508
UF Faculty Manager
Dr. Brian Harfe
bharfe@ufl.edu
(352) 294-1955
Additional Information
Royal Holloway, University of London
Royal Holloway UF Exchange Flyer
Royal Holloway Study Abroad Postcard
Student Experiences
Adulting? A Reflection: Zee Kamara, UF undergraduate
Notes from a Baby Londoner, January 29, 2022
Erika Clesi talks with Global Gator about her experiences at Royal Holloway
The Importance of Connecting with People in Every Stage of Life, by Rhiana Suarez
Royal Holloway University of London Student Exchange Testimonial: Farah Jean, UF undergraduate
Rhianna Suarez talks with Global Gator about her experiences at Royal Holloway
"Reflection in an Egham Pizzeria," by Rhiana Suarez
Elizabeth Ingersent introduces Royal Holloway, University of London
Farah Jean introduces Royal Holloway, University of London
Emilie Pearson introduces Royal Holloway, University of London

APPLY