Remote advising updates
If you have pre-health specific questions please log into the Qualtrics survey. You will be directed to advising sign in after taking the survey.
Spring 2021 Pre-health advising will be held via Zoom, Monday through Friday from 9:00 a.m. – 12:00 p.m. (the list will close at 11:45 a.m.).
If you have a quick advising question that relates to pre-health (1 or 2 sentences) you may email us at prehealth@advising.ufl.edu.
Pre-Health Advising
Meet the UF Pre-Health Advisors
Meredith Beaupre,
Honors Program Pre-Health Advisor
Brittany Hoover,
Pre-Health Advisor
Nick Mrozinske,
Pre-Health Advisor
Brittany Schambow,
Pre-Health Advisor
Katie Johnson,
Pre-Health and
Pre-Law Assistant
Same-Day Remote Advising
Fall 2020 Pre-health advising will be held via Zoom, Monday through Friday from 8:00 a.m. – 11:30 a.m. (the list will close at 11:15 a.m.). Beginning Spring 2021 Pre-health advising will be held via Zoom, Monday through Friday from 9:00 a.m. – 12:00 p.m. (the list will close at 11:45 a.m.). If you have pre-health specific questions please log into the Qualtrics survey. You will be directed to advising sign in after taking the survey. Walk-ins are generally for questions of 15 – 20 minutes or less and should be pre-health related. If you have general advising questions (i.e. major specific, minors, forms, holds, petitions, change of major, double major, etc.) you can see a general advisor in your college. You are expected to bring the Pre-Health Action Plan with you to any advising session where you may want to discuss your professional development or competitiveness.
Pre-Health Appointments
Undergraduate Juniors and Seniors by term, not credits, may call (352) 273-4083 to schedule an appointment. The Pre-Health Assistant is generally available for scheduling appointments on Mondays, Tuesdays, Thursdays and Fridays from 8:00 a.m. – 11:30 a.m. and 1:30 p.m. – 4:00 p.m. OR Wednesdays from 10:00 a.m. – 11:30 a.m. and 12:30 p.m. – 5:00 p.m.
Appointments are not available during peak times such as drop/add and advance registration. During peak times, only questions regarding registration will be addressed.
UF Alumni and Non-Traditional Student Appointments
Pre-Health Advising is pleased to offer appointments for alumni who received an undergraduate or graduate degree from UF or non-traditional students interested in returning to school to complete the pre-requisite courses for professional school application. If you wish to make an appointment, please call Katie Johnson in the Academic Advising Center, (352) 273-4083, or email kjohnson@advising.ufl.edu.
Include your full name (during your time as a student, if different) and days/times that work best for an appointment. If you were a UF alum, please send Katie your UF ID number.
UF Honors Program Pre-Health Advising
Students in the UF Honors Program who wish to speak with Meredith Beaupre for pre-health advising can check the Honors Program website for express hours information or can call (352) 392-1519.
Medical Honors Program (MHP) Advising
The Medical Honors Program (MHP), is an accelerated 7 Year B.S./M.D. program offered by the University of Florida. The program is intended for undergraduate students who have demonstrated superior scholastic ability, commitment to serving others and personal development during their first two academic years of enrollment at a 4 year accredited science-degree-granting institution, and who are dedicated to pursuing medicine as a career. https://mhp.med.ufl.edu/mhp-program-overview/
Please review:
After reviewing the MHP website, if you have questions:
UF College of Pharmacy Advising
UF College of Veterinary Medicine Advising
UF students interested in the UF College of Veterinary Medicine may see Alex Avelino. To make an appointment, please email aavelino@ufl.edu. Use Subject line: Pre-Vet Advising and Subject body: Please provide three days and times you are available and your preferred method of communication (e.g. Zoom, phone, or email).
UF College of Nursing Advising
UF students interested in the UF College of Nursing Traditional B.S.N. program may speak with Ken Foote in the College of Nursing, email kfoote@ufl.edu. Students interested in the UF College of Nursing Accelerated B.S.N. program may speak with Kianna Simmons in the College of Nursing, email kiannalsimmons@ufl.edu. For more information, please visit https://nursing.ufl.edu/.
COVID-19 Information
Information about the impact of the Coronavirus changes moment to moment. It's hard to know what's current and there are so many questions.
We know the professional organizations and schools are working diligently to provide information as quickly as possible. They will continue to release information as the impact of Coronavirus becomes clearer. See resources below to stay up to date for your profession.
1. S/U
Professional schools determine their own admission criteria. This varies school by school. Because of this, there is no universal consensus regarding whether S/U grades will be accepted in place of letter grades and policies vary from school to school.
In order to leave open as many options as possible, and because you have the option of taking the courses for grades, we encourage maintaining the grade option for your sciences, especially prerequisite courses.
Please research schools you are interested in applying to for their admission criteria before making a final decision.
If you are in the current application cycle and received an offer of admission or are on a wait list, please contact the Admission offices of those schools for their input before taking the S/U option.
Professional schools look for academic patterns. Future applications will be reviewed by each school within context of COVID impacts and based on the schools' admission criteria.
Please use the resource links below to get updates from your respective profession.
2. Online Courses
Keep in mind this is a national issue. Healthcare professionals have the frontline on this. Many healthcare professional schools are also using online learning within their curricula.
Professionals schools have better comprehension and understanding of the impact of C-19 is having on all. They will consider this impact with great understanding when reviewing applicants for admission in future cycles. Taking online courses during this time will not negatively impact admission.
When courses resume to an class format, please take your pre-requisite courses in class.
We continue to recommend that you demonstrate rigorous academic course loads of 2 sciences and 15-18 credits per semester. Prepare to serve the widely diverse populations you will serve as a professional by balancing science courses with social sciences, humanities and other non-science courses.
3. Extra-Curricular Activities
First and foremost, stay safe, be well and keep your distance. Be very considerate of the welfare of others. Keep your distance. Be the one to stop the spread of C-19; don't contribute to it.
Again, professional schools have the greatest understanding of the impacts of the Coronavirus and support impeding its spread. Demonstrate your compassion and understanding by socially distancing yourself.
Having a gap in doing service during this time will not be held against applicants.
However, if you can find ways to serve others, which supports social distancing, keep on going. Be really creative but keep your distance. Did I say, "Keep your distance?"
Are you musical? Do you dance? Talented in other forms of entertainment – record a performance and see if an extended care facility would stream it to residents or allow you to sing/dance to them outside through the windows.
Get in touch with an office for the aging, your church or other community agencies that serve community members and see if you can organize and/or help to do 'care calling.'
Work with food banks to organize a canned food drop box for donations.
Make cards for those who are homebound, in the hospital or extended care facility.
See a need, create a solution, but keep your distance.
See if the local K-12 schools needs online reading and math tutors.
Check out the virtual volunteering info at https://www.dosomething.org/us/articles/9-places-to-volunteer-online-and-make-a-real-impact.
Others:
4. Entrance Exams
With the pandemic, exam testing dates will be cancelled. Not to panic. The option is being given to test for a future date. Please refer to the specific exam websites, listed under 'Resources' for updates.
Keep in mind
In medicine, you will be required to perform under stress and in unexpected circumstances, just as you are now.
Your performance this semester will demonstrate resiliency and adaptability, which are part of the core competencies that professional schools look for in future professionals. https://students-residents.aamc.org/applying-medical-school/article/core-competencies/.
We know you've got this. We are here to support you. If you are home and feeling stressed, contact your physician and mental health resources. If you are in Gainesville, reach out to the Student Health Center and the Counseling and Wellness Center.

Several professions are holding virtual webinars, consider registering for these. Refer to your professional websites (ADEA, AACOM, AMCAS, AAVMC, etc.) for further information.
5. Involvement and making an impact during COVID-19
Help make masks for medical professionals and the community
Medical professionals and hospital are running of N95 Respirators and surgical masks. The general public, patients, and medical professionals can benefit from homemade cloth masks. The CDC has approved of cloth facial masks for public uses and hospitals/medical centers are accepting donated cloth masks.
For students at home, this an excellent way to help the community. Below are some links to get started on sewing simple cloth masks:
My family and I have already made and donated over 150 masks to local medical centers, nursing homes, and neighbors. We have a goal to reach a 1000 masks. You can check out our Instagram to see some examples.
You're free to contact me at alisha.patel@ufl.edu if you need any help with starting, finding materials, or donating.
Involvement and Making an Impact during COVID-19 (DOCX, 25KB)
Resources
Testing Companies
Professional Coronavirus updates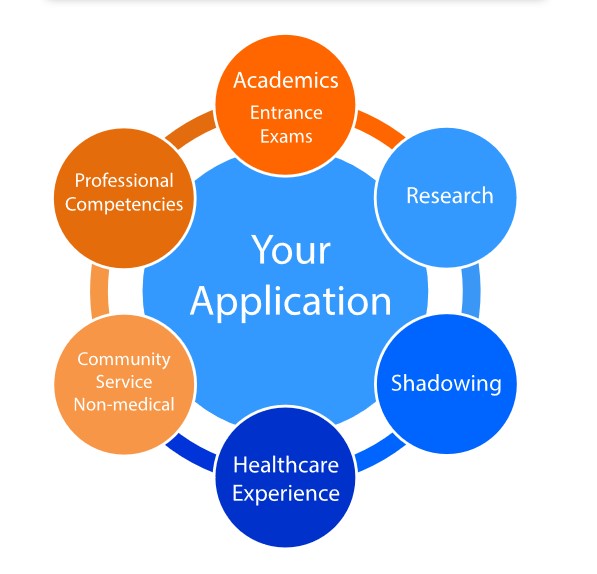 Pre-Health Events